If you're not a meal planner, consider adding up how much time you spend each week cooking breakfast, lunch, and dinner on the fly, running to the grocery store for ingredients, or going through the drive-thru when you feel like you don't have the time or energy to cook. More than likely, that will add up to an hour a day. On the other hand, you could spend 90 minutes (or less) meal prepping one afternoon and save hours during the week. Hours that could be spent working out, playing with your kids, spending time with friends and family, or doing anything else you love to do!
It is entirely possible to meal prep for five days in 90 minute or less, but you do have to be organized. The guide and grocery list below will help. The menu is geared towards those at the 1200-1500 calorie level, but can be adjusted if you're eating at a higher level. Just double the amount of protein or vegetables in some of the meals, or supplement with ready-to-eat snacks like sliced turkey breast, raw veggies, and whole grain crackers to meet your  container requirements.
So, do those dishes (it's easier to cook quickly in a clean kitchen), purchase all of the ingredients in the grocery list that follows, and set out everything non-perishable on the table or counter. If you stay focused, and move quickly from task to task, you might be able to complete this meal prep in less than 90 minutes. It took me just over an hour.
Psst – looking for the containers below? You can get them here.
This Week's Meal Prep Menu:
Breakfast: Spinach, Tomato, and Quinoa Breakfast Casserole with an apple or orange
Shakeology Snack: Shakeology with 1 cup frozen strawberries or peaches and 1 tsp. nut butter
Lunch (M/W/F): Tuna and White Bean Salad with Chimichurri Sauce
Lunch (T/Th): Turkey Salad with Lentils and Bell Pepper
Dinner (M/W/F): Spaghetti Squash with Turkey, Basil, and Roasted Tomatoes
Dinner (T/Th): Spiced Ground Turkey with Cauliflower
Snacks: 20 pistachios or hummus and lettuce
Here's what your meal prep for the week will look like when you're done.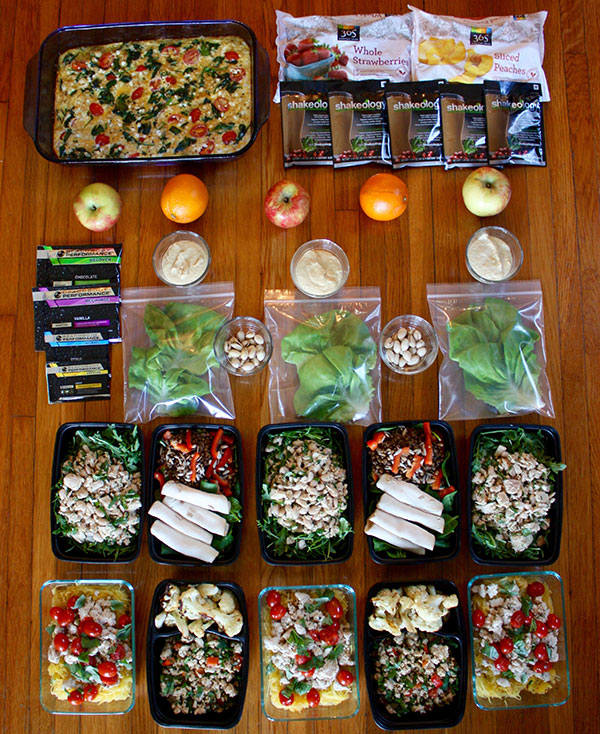 BREAKFAST
Spinach, Tomato, and Quinoa Breakfast Casserole and an apple or orange
(2½ cups quinoa, 4 cups spinach, 1 cup tomatoes, ¾ cup cottage cheese, 8 eggs divided into five servings = 1 red, 1 green, 1 purple, 1 yellow)