Ten-year data suggest that Roux-en-Y gastric bypass (RYGB) surgery yields greater, more sustained weight loss compared with no surgery, according to a Veterans Affairs (VA) study published online in JAMA Surgery on August 31.
The study also found that RYGB surgery may result in more weight loss over 4 years than adjustable gastric banding or sleeve gastrectomy.
"These findings provide additional strong evidence for durable long-term weight loss among patients undergoing RYGB," write first author Matthew Maciejewski, PhD, from Durham VA Medical Center, Chapel Hill, North Carolina, and colleagues.
Past studies have shown bariatric surgery to be the most effective way for obese patients to lose weight. However, less evidence exists about long-term weight loss after bariatric surgery. Most randomized trials have been shorter-term, 1- to 3-year studies conducted mostly in women.
In the retrospective cohort study, Dr Maciejewski and colleagues used electronic medical records data to compare 10-year weight changes in 1787 veterans who underwent RYGB surgery in VA facilities between January 2000 and September 2011 with changes in 5305 patients who did not have surgery.
At baseline, the RYGB group had a mean age of 52.1 years and a mean body mass index (BMI) of 47.7; 73.1% were male, and 84.1% were white. The nonsurgical group had a mean age of 52.2 years and a mean BMI 47.1; 73.7% were male and 83.9% were white.
Researchers also compared 4-year weight changes in 1785 patients who underwent RYGB with changes in 379 patients who had adjustable gastric banding or 246 who had sleeve gastrectomy patients.
The 10-year follow-up rates were 81.9% for RYGB patients and 67.4% for controls.
Results at 10 years showed that RYGB patients lost 21% (95% confidence interval [CI], 11% – 31%) more of their baseline weight compared with nonsurgical matches. The weight loss in the nonsurgical group (which received no weight loss treatment) may have been due to age-related changes, according to the authors.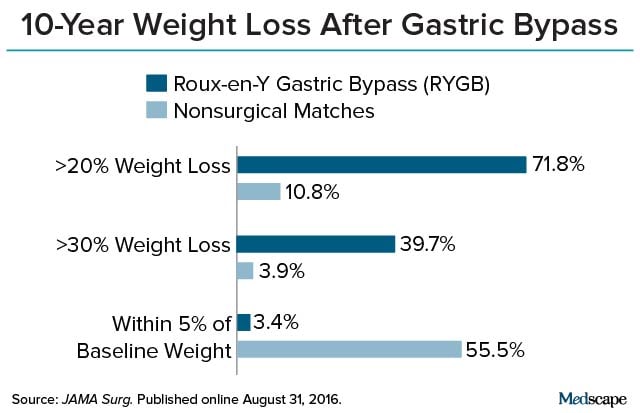 In the RYGB group, 71.8% (405/564) experienced over 20% estimated weight loss and 39.7% (224/564) experienced over 30% estimated weight loss. In comparison, 10.8% (134/1247) and 3.9% (48/1247) of unmatched controls had 20% and 30% estimated weight loss, respectively.
Moreover, at 10 years just 3.4% (19/564) of the RYGB group were within an estimated 5% of their baseline weight, compared with 55.5% (692/1247) of the nonsurgical group.
Four-year results showed that the RYGB group lost 27.5% (95% CI, 23.8% – 31.2%) of their baseline weight, while patients in the adjustable gastric banding group lost 10.6% (95% CI, 0.6% – 20.6%) and those in the sleeve gastrectomy group lost 17.8% (95% CI, 9.7% – 25.9%).
In relative terms, RYGB patients lost 16.9% (95% CI, 6.2% – 27.6%) more of their baseline body weight than did patients who had adjustable gastric banding and 9.7% (95% CI, 0.8% – 18.6%) more than did those who had sleeve gastrectomy.
The authors note that these results are similar to findings of two longer-term studies done in Sweden and the United States, as well as to those of shorter-term studies.
They also note that they could not assess 10-year outcomes for the sleeve gastrectomy group because of the newness of this procedure. and point out a "critical evidence gap" for this procedure, which has recently become the most commonly performed bariatric surgery in the United States. More research on postsurgical complications, disease resolution, and long-term mental health after bariatric surgery is needed to enable patients to choose the procedure that is right for them.
"Engaging patients in a high-quality shared decision-making conversation about their weight loss treatment options (including no treatment) is critical because prior studies have found that patients have unrealistic expectations of the weight loss that bariatric surgery will help them achieve," the authors conclude.
In a linked editorial, Jon C. Gould, MD, from the Medical College of Wisconsin, Milwaukee, highlights this study's "remarkable" finding that only about 3% of RYGB patients gained their weight back to within 5% of their baseline weight over 10 years.
He also emphasizes the cardiometabolic benefits of bariatric surgery and mentions evidence suggesting that these benefits may be independent of weight loss.
"Metabolic and bariatric surgery has changed the natural history of obesity. Patients who undergo metabolic and bariatric surgery live longer and are less likely to develop severe obesity-related conditions than their nonsurgical counterparts," he writes.
However, he laments the low use of these procedures — only about 1% of morbidly obese surgical candidates actually undergo surgery.
"Although the reasons for this are multifactorial, here is to hoping that with the publication of the article by Maciejewski et al, the perception that all metabolic and bariatric surgery patients gain their weight back has become less valid," he concludes.